Star Wars, Star Wars, Star Wars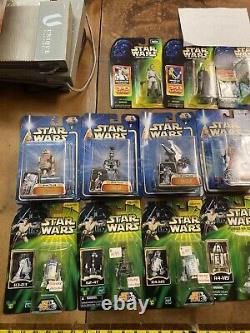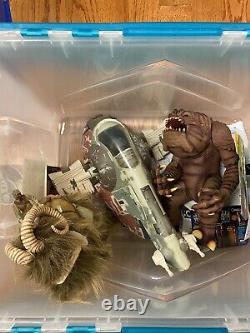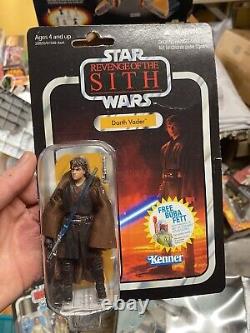 Star Wars, Star Wars, Star Wars! Still in the process of opening more tubs and inventorying but thus far the list is below! Let me know if you're looking for anything particular and I'll do my best to help!
May the force be with you! Obi Wans Jedi Starfighter ep3. Droid Factory Design your own droids. REVENGE OF THE SITH 3.75. Qui gon Jinn- Jedi training gear.
Qui Gon Jinn (Mos Espa disguise). Luke Skywalker with t16 sky hopper. Darth Vader with imperial Interrogation droid. Bespin Guard Cloud City Security. Princess Leia from Dark Empire Comics.
C-3PO with realized metallized body. Death Star Droud with mouse droid. Obi Wan Kenobi (Jedi Training Gear). R2-D2 with holographic princes Leia. Dark Trooper from Dark forces game.
Yoda with cane and boiling pot. R2- D2 with launching lightsabers. Aunt Beru with service droid. Luke Skywalker Dark empire comics. Boba Fett with sawed off blaster.
Obi Wan Kenobi Cold Weather Gear. Kyle Katarn from Dark Forces Video Game. Imperial Sentinel from Dark Empire Comics. Han Solo In Hoth Gear.
Han Solo Heavy Assaukt Rifle. Mace Windu Army of the republic. Anakin Skywalker Army of the Republic. Space Teoopwr from Heir to the empire. Kit Fisto Army of the republic. Yoda Army of the republic. Luke Skywalker A Wing pilot. Sae See Tin Army of the republic. Luke Skywalker with Blaster rifle. Obi Wan Kenobi army of the republic. This item is in the category "Collectibles\Science Fiction & Horror\Star Wars Collectibles\Other Star Wars Collectibles". The seller is "galacticminifigs" and is located in this country: US. This item can be shipped to United States.
Genre: Science Fiction & Horror
Franchise: Star Wars